The Q&A comes this week from Greg Avola, the NYC based coder and beer geek behind Untappd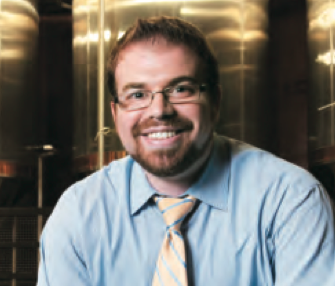 Blurb…
Living in the craft beer haven of New York City, I'm the backend developer for Untappd. After experiencing Rare Vos for the first time, I instantly fell in love with craft beer. While some people enjoy reading books or watching movies, my passion is to coding.
Your ethos…
Passionate, Funny, Controlled, Outgoing, Humble
Beer epiphany…
The truth of the matter is that I, nor my co-founder Tim Mather, were ever in to beer before Untappd was made. We saw a potential with the social media industry to connect the dots on something that is very socially, but never had that represented in a social network. I first tried Rare Vos about 2 years ago and fell in love with Belgian and craft beer. Once I did that – I never looked back.
Best beer find of the last year…
My favorite beer is Pliny the Elder and I had a chance to have it draft when I was last in San Francisco, CA. It's an amazing beer that tastes 100% different on tap than in the bottle.
What sounds are to be heard as you work…
Typically I listen to a lot of techno music when I'm working on Untappd. When coding, I like the repetition of the beats which helps me code better, believe it or not. Most of the time I use Spotify to deliver that music.
If I wasn't coding I'd be…
Great question – because coding is my hobby and my passion. If I'm not coding, I'm most likely sleeping, eating or hanging out with family. I would say I code about 75% of the time.
Before I was coding I was…
I was in school studying how to code and build computers. I used to build a lot of custom computers for friends and family and was really into all the technology specifications of motherboards, video cards, and hard drives.
Favourite thing about what I do…
My favorite thing about what I did is the ability to help people solve problems. Nothing gives me greater joy to hear feedback from a user about how they used and liked the service. At the end of the day, we're not really saving lives, but we are making lives easier for some people and that's what it's all about.
Brewers you look up to…
For me – it's Shane Welch from SIxpoint in New York. I think his vision and direction for the brewery and industry as a whole is very fresh and new. He has passion for beer and making a quality product is something that I strive for in my work with Untappd.
The app I wish I'd come up with…
I think the logical answer is Instagram, because I love photography and the app allows anyone to fill that void. Of course the fact that it was just bought for 1 billion dollars helps too.
Pub heaven…
A pub that has a great beer selection with tie integration with Untappd, meaning that when someone check-ins to a beer at that bar, their face would appear next to the beer. That would be an great interactive element for a beer list.
Pub hell…
My biggest peev is incorrect beer names, as it causes people to create beers on Untappd. For example if a bar calls Nugget Necter, Troeges Necter Red, that causes issues with your Database.
Favourite local pub…
It's a tough one but I would have to say The Pony Bar in NYC. $5 craft beers all day / night long is something you can't beat.
Favourite non local pub…
The Stone Bistro Gardens in CA was my favorite in the country so far. Amazing beer, food and views.
Advice any aspiring brewer / app developer / tech startup…
Never give up and keep pushing yourself. Users want to be part of something that they feel part of, so always interact with your users and make sure they feel welcome. I love meeting Untappd users because I want to thank them for being part of the community.
What's on the horizon…
We have a lot of great stuff coming up soon as we try to make Untappd the best product for beer and bar discovery. We also want to focus our efforts on making a better recommendation engine. If I told you – where would the fun be in that?